This is a full update, as a few things have changed from when he first arrived in Mikona aged nineteen.
Angus Blacksail is in his late twenties, about 5'11", brown-eyed, and lean, with slightly wavy black hair running down and behind his ears. His features and body are symmetrical, and he is either perpetually clean-shaven (
highly
unlikely) or just doesn't grow facial hair. He has good, clear skin, straight teeth, a strong voice, and passable posture.
The first thing somebody would notice if Angus were in his usual shirtless state is a wide, ragged, poorly healed scar running diagonally from a couple of inches below his right nipple to just over his heart.
Below that, centered on his navel, is this: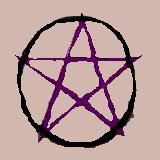 And carved vertically into the skin over the front of his right rib cage, so the words can be read when he's lying on his back, this:
Other smaller scars include the kind you'd expect from someone at ease in a brawl. Nicks above the eye, on his cheek, and so on.
He has a host of tattoos done at different times and with varying levels of skill. They appear to all have originally been black, but some display the black portions inked over in dark purple. A few are the names of ships or women (all of the latter struck through crudely to the point of destruction), but most notable are
1) a black-sailed corsair sailing over a purple ocean covering his whole back
2) a black sun rising over a purple sea with black sun-streaks across his chest
3) the symbol of Maleki tattooed at the spot where his collarbones meet
4) a black tattoo in bold, gothic script that reads "'M'CHEK FOREVER!" on the inside of his left forearm
5) one that says "NEVER SURRENDER!" in the same spot and same style on his right forearm.
His demeanor varies from cheerful to brooding, and anyone around him will definitely see that he's quick to laugh and make jokes, but also, since returning from an absence that stretched over several years, prone to quiet stares and long, unspoken moments. He generally opts out of a shirt and travels with two bottles of alcohol tucked into the waistband of his black pants.
But whether as a result of some basic personality disorder, an affinity for banned substances, or memories - real, dimly-remembered, or made up for the sake of convenience - many have also seen how mercurial he can be, laughing with you one minute, fighting you the next.